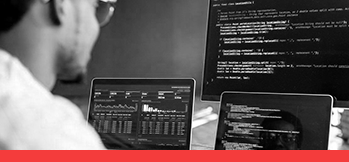 Complete Software Innovation
Digital transformation is one of the main requirements in today's marketplace to achieve high performance and improve efficiency. E.VISION is your partner to develop high-end software utilizing our professional team that is equipped with featured technologies.
E.VISION  has a proven success deploying megaprojects with different entities that operate developed software on big scales since it is founded in 2012.
Our Custom Software Services:
Web-based software

Desktop software

Mobile application
Electronic Hardware Design for Products
E.VISION offers electronic hardware design and mass production for new and existing products. The integrated electronic designs are utilized into products to achieve functionality and fulfill customer requirements.
All system designs, product designs, and printed circuit boards are conducted in-house by our specialist electronic engineers. The product design lifecycle enables us to offer robust and high-quality certified products.
Product Design Services:
System design

Hardware design

Embedded software

Mass production

Product certification